Modding The Pro Co Rat2
Mood:
hug me
Now Playing: nothing....
Topic: Pro Co Rat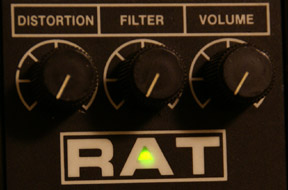 The SuperSonic Mod
I spent this afternoon and part of yesterday evening modding the Rat 2 that I traced out earlier this week. I'm content an pleased with how it came out. I call it the "SuperSonic Mod" for absolutely no reason at all other than I don't think the name has been used yet....
The mod itself is a combination of component value changes which affect the function of the circuit and mojo component "upgrades". I've been collecting a lot of mojo components - carbon comp resistors, paper-in-oil caps, etc.. - so I figured I should start using them. I can't really say for sure whether using a carbon composition resistor in the circuit makes a big difference or not.... I'm not willing to take the time to make myself crazy over head-to-head comparisons of such things. All I can say is that the mod sounds very good to me, and the mod includes those components, therefore, I consider them to be an integral part of the mod.
Another interesting thing of some import is the use of high grade Tantalum caps. I've been using these really nice-looking "electrolytic" caps for lots of things for awhile now, but I was never really sure about their origins. The ones I have came in a surplus grab bag. So, I looked them up to see if it would be possible to order some more, and, lo and behold!, it turns that these "electrolytics" are actually really high grade mil-sped Tantalums. They are the Sprague 150D, and the bloody things cost about $1.80 a piece! I've always been really down on the idea of using tantalum caps for signal coupling, but these things were spec'ing so much better with my Atlas ESR meter than any electro in my possession, so I just had to give them a try. I was very pleased with how they perform in this circuit. While I'd still be wary of using any kind of tantalum in a "clean" circuit, I think they've proven themselves very useful with distortion.
Here is the schematic of the modifications: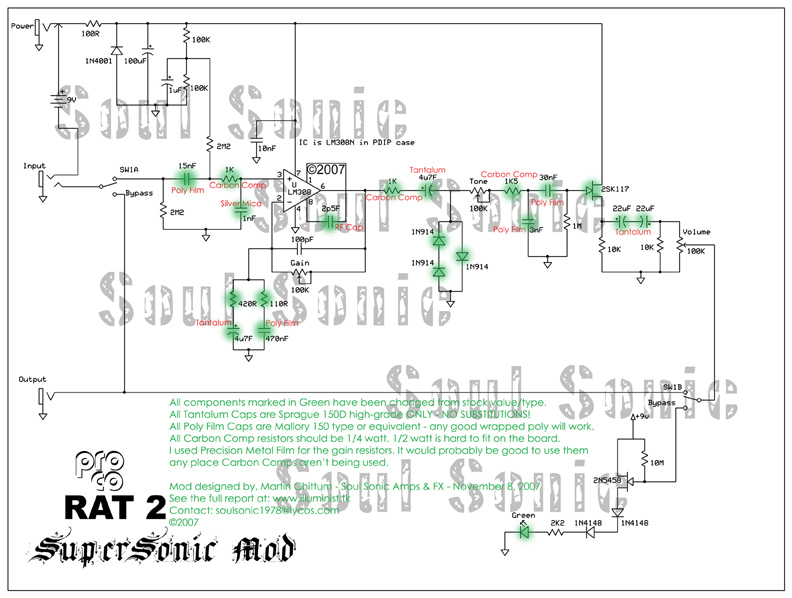 A larger, higher resolution schematic can be found at:
http://www.aronnelson.com/gallery/d/17921-1/ProCo+Rat2+Modded+-+resized.jpg
Here are a few pics of the unit I modified. It was a little hard to cram some of the larger components in there, but it all turned out fine with no problems. I also cleaned the pots and jacks and replaced the battery clip - this Rat is getting pretty old and it's been well-loved.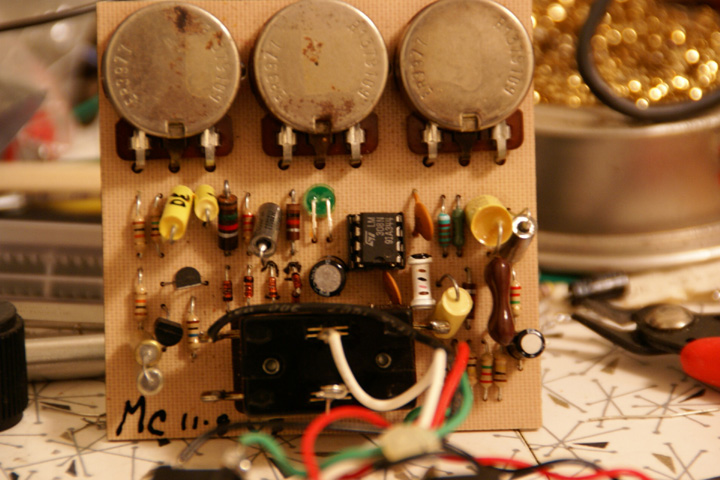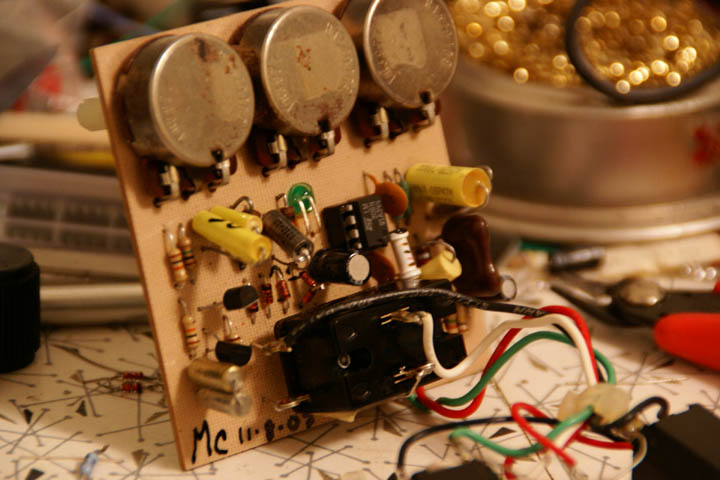 So, there you can see the whole mess. See how nice those shiny Tantalum caps look? Even though I've been a tantalum hater, I can't help but love the Sprague 150D, they are great!
Yes, fancy caps, mojo carbon comp resistors in strategic places.... everything you need for a good mod..... ha!
To explain the actual mod a little bit; basically, what I did was lower the gain of the high frequencies a little bit, and then shift the cutoff point of the high frequency gain up higher. I kept the low frequency cutoff at the same point and raised the gain a tiny bit. A big change is in the compensation cap - the Rat traditionally has an oversized compensation cap which cuts the highs and causes a strange slewing distortion. I changed it to a much lower value - only 2.5pF - and the result is a much more open top end, and I was glad to hear that it can still get that signature Rat slewing distortion, it just has a different tone to it. I was able to get rid of alot of the mush - change the high frequency gain cap from 2.7uF to 470nF had alot to do with that.... having that cap value so low doesn't really do anything for the highs at all, but it overlaps too much with the 4.7uF low frequency gain cap and causes alot of low-end build up and mud. By putting the high frequency gain cap well out of the range of the low frequency one, it's much easier to set the gain for the two frequency areas independently. I really can't think of any other way to explain it The asymmetrical clipper was put in there because I like that style - I suppose you could put whatever you want, but I'm happy with what's shown in the schematic.
You can listen to an audio demo I recorded of it here:
http://www.aronnelson.com/gallery/v/soulsonic-fx/SuperSonic+Rat+Mod.mp3.html
The recording is of the modded Rat playing through a tiny little 5 watt tube amp with a 6 inch speaker. Nothing fancy, basic bedroom practice kind of thing. It was mic'd with a Heil PR-40.
If you have any questions about this mod, feel free to email me,
soulsonic1978 [at] lycos.com
Enjoy!
Posted by soulsonic1978 at 3:53 AM EST